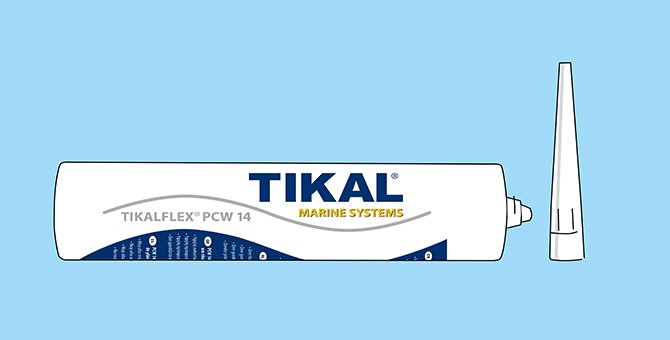 Tikalflex PCW 14
PCW14 is a high-quality sealant for all types of windows and panes made of polycarbonate, acrylic or glass.
PCW14 does not cause stress cracks on prestressed acrylic glass (Plexiglas) and polycarbonate (Makrolon, Lexan).
It is applied to wood, metal and GRP without a primer.
PCW14 is an extremely UV-resistant, very durable marine grade silicone.
It is low-odour, cannot be painted over and is very colour-fast.
PCW14 has been tested and approved for processing with PLEXIGLAS-XT and has passed the IMO MareED test.
Technical data
| | |
| --- | --- |
| Base | polysiloxane - silicone |
| Curingsystem | moisture curing |
| Skintime | 10-20 minutes |
| Curingtime | approx. 2mm / 24 h |
| Hardness ( Shore A) | 20-25 |
| Density | 1.03 g/ml |
| Elongation at break (ISO37) | > 600% |
| Resilience ( ISO7389) | > 80% |
| Tensile strength (ISO37) | 1.50 N/mm² |
| Elongation at break (ISO37) | > 600% |
| Processing temp | 5°C - 35°C |
| Temperature resistance | - 40°C - 180°C |