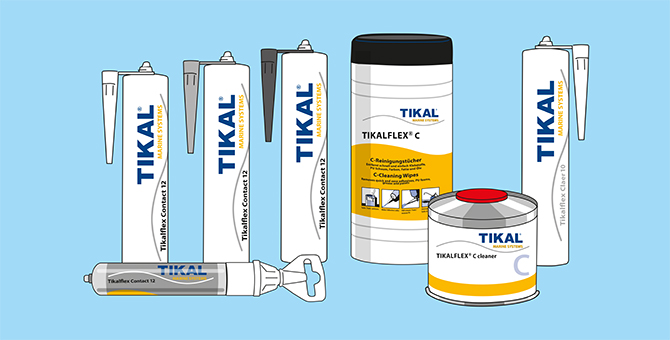 TIKALFLEX Clear 10
TIKALFLEX Clear 10 is a transparent MS polymer adhesive for all interieur applications.
It´s suitable for bonding and sealing of many maritime exterieur applications with steel, aluminium, wood or GRP.
TIKALFLEX Clear 10 is weatherproof but shall not be used in direct UV light.
TIKALFLEX Clear 10 can be applied with soapy water and putty knife to form smooth sealing joints and can be overpainted with conventional varnish systems.
Technical data
| | |
| --- | --- |
| Chemical basis | MS polymer |
| Processing temperature | 0° to 40° |
| Application rate | 150 g / min |
| Resistance to flow | < 2 mm |
| Density | 1.01 g / ml |
| Skin forming time | 15 min |
| Through-hardening after 24 h | < 2 mm |
| Shelf-life for storage at 5°C to 25 °C | 18 months |
| Expansibility in practice | + / - 25 % |
| Temperature stability following hardening | - 40°C to + 90° C |
| Shore A hardness | 38 |
| Modulus 100 % | 1.0 N/ mm² |
| Tensile strength | 2.2 N / mm² |
| Elongation at failure | 250 % |