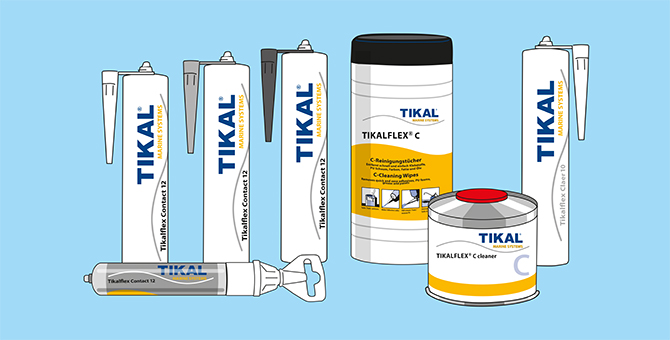 TIKALFLEX Cleaning cloths C
Cleaning cloths C are highly effective, universal cleaning agents for gently removing sealant, PUR foams and adhesives before they have hardened by means of ready-to-use cloths from a practical dispenser.
Cleans hands | tools | surfaces of:
non-hardened adhesives and sealants such as
MS polymers (e.g. Tikalflex)
silicones
spray adhesives
PUR foams
PUR adhesives (e.g. Sikaflex)
non-hardened epoxy resins
lubricants (oil, lubricating grease, ink, dirt, grass stains)
paints (acrylic, oil, water based)
Application:
Simply clean up fresh residues or dirt with the cleaning cloth and clean hands, tools and surfaces.
In order to remove fresh paint or particularly stubborn stains from non-porous surfaces, simply leave a folded cloth to soak in for a few minutes on the surface and then remove stains by rubbing.
Technical data
| | |
| --- | --- |
| Contents | water-soluble solvents, thickener |
| Storage stability | +5°C to +45°C |
| Storage | frost-free, dry, upright, 24 months unopened |
| Content | 80 cloths (20×30 cm) dispensed singly |